Bela I. Sandor
Professor Emeritus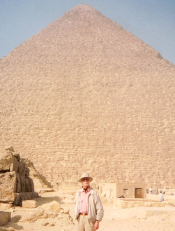 Profile Summary
Professor Sandor's main research has been in Thermoelastic Stress Analysis (TSA), a full-field, noncontacting experimental method based on small, modulated infrared emissions. Pioneering work at UW-Madison with this method includes: isotropic and anisotropic materials (metallic and nonmetallic); high-temperature environments; random-load stress and modal analysis; stress microscopy; image-based nondestructive evaluation and life prediction.

Recent research and lecturing: comprehensive mechanics analysis of ancient chariots. This technical work is correlated with wide-ranging studies in archaeology and art (examples: "Virtual Rides on Tut and Ben-Hur Chariots," at Fatigue 2003, Queens' College, Cambridge, UK; "Tutankhamun's Chariots and the Exodus," at Madison Biblical Archaeology Society, 3/16/13).

Major activity on chariot research: fundamental technical advising on the NOVA documentary "Building Pharaoh's Chariot," and filming on location in Egypt in summer of 2012. Original broadcast on PBS, 2/6/13:
http://www.pbs.org/wgbh/nova/ancient/pharaoh-chariot.html
BS 1961, University of Illinois
MS 1963, New York University
PhD 1968, University of Illinois
ancient chariots: comprehensive mechanics analysis and humanistic aspects
stress-strain in materials
fatigue and fracture of engineering materials, structures, joint systems
damage alleviation; fracture control
infrared thermographic stress analysis
1. Books: see departmental list for major books.
2. Papers: over 70, in various areas.
3. Chapters in several books. Recent, generally useful chapter (140 pp.): Ch.1, Mechanics of Solids, in The CRC Handbook of Mechanical Engineering, 1998. 2nd ed. 2004. Covers Statics, Dynamics, Vibrations, Mechanics of materials, Structural integrity and durability (fracture mechanics, creep, fatigue, etc).
Papers on Chariots
1. \"Tutankhamun\'s Chariots: Secret Treasures of Engineering Mechanics,\" a keynote paper at Fatigue 2003, April 2003, Cambridge, UK. Proceedings of the Fifth Int. Conf. of the Engineering Integrity Society, 2003, pp.17-26. Link: http://courses.engr.wisc.edu/cgi-ecow/getbig/ema/303/carpick/links/sandor_paper.pdf Expanded version of this Cambridge paper in Fatigue & Fracture of Engineering Materials & Structures, July 2004. www.blackwell-synergy.com
2. \"The Rise and Decline of the Tutankhamun-Class Chariot,\" Oxford Journal of Archaeology, May 2004. www.blackwell-synergy.com
3. \"The genesis and performance characteristics of Roman chariots,\" Journal of Roman Archaeology 25, 2012.
4. \"Chariots\' Inner Dynamics: Springs and Rotational Inertias,\" First International Chariot Conference, Cairo, Egypt, Nov. 30-Dec.1, 2012. Proceedings forthcoming in PJAEE (PalArch\'s Journal of Archaeology/Egyptology).
Presentations on Chariots, 2013
1. \"Building Pharaoh\'s Chariot,\" NOVA documentary; B. Sandor a principal technical advisor; original airing on PBS on 2/6/13;

http://www.pbs.org/wgbh/nova/ancient/pharaoh-chariot.html

2. \"Tutankhamun\'s Chariots and the Exodus,\" Madison Biblical Archaeology Society, 3/16/13; also at UW-Madison AFC, 4/16/13; related podcast for \"The Book and the Spade.\" Links:

http://www.radioscribe.com/artifax.htm

Archive site for podcast by Gordon Govier: http://tbts.info/episodes/1374.
Resumed practice and competitive swimming in 2002, after a hiatus of 42 years. In 2004, BIS was nationally ranked among the top three in several events in US Masters Swimming (www.usms.org; 65-69 age group). No.1 in the US and No.8 in the world in the 50-meter short-course (SCM) breaststroke in 2003. No.1 in the 100-yard breaststroke at the 2004 Short-Course-Yards (SCY) US Masters National Championship, Indianapolis IN, 4/04 (time 1:17.29). No.1 in the 50-meter breaststroke at the 2004 Long-Course-Meters (LCM) US Masters National Championship, Savannah GA, 8/04 (time 39.73).
FINA Masters 2005 world rankings: LCM: No.4 in 50 breast, No.5 in 100 breast, No.6 in 200 breast; SCM: No.4 in 50 breast, No.4 in 100 IM, No.7 in 200 breast; 2005 US rankings: No.1 in four events, No.2 in two events
US national record: 200-yard breaststroke, 2:52.92, 4/06; US SCY rankings in 2006: No.1 in three events, No.3 in one, and No.6 in another event
FINA Masters World Championships, Stanford University, 8/06, Men 70-74: No.3 in 100-meter breaststroke, 1:30.60; No.4 in 200-meter breaststroke, 3:25.11; No.5 in 50-meter breaststroke, 40.49
Professor Sandor\'s main research has been in Thermoelastic Stress Analysis (TSA), a full-field, noncontacting experimental method based on small, modulated infrared emissions. Pioneering work at UW-Madison with this method includes: isotropic and anisotropic materials (metallic and nonmetallic); high-temperature environments; random-load stress and modal analysis; stress microscopy; image-based nondestructive evaluation and life prediction.

Recent research and lecturing: comprehensive mechanics analysis of ancient chariots. This technical work is correlated with wide-ranging studies in archaeology and art (examples: "Virtual Rides on Tut and Ben-Hur Chariots," at Fatigue 2003, Queens\' College, Cambridge, UK; "Tutankhamun\'s Chariots and the Exodus," at Madison Biblical Archaeology Society, 3/16/13).

Major activity on chariot research: fundamental technical advising on the NOVA documentary "Building Pharaoh\'s Chariot," and filming on location in Egypt in summer of 2012. Original broadcast on PBS, 2/6/13:
http://www.pbs.org/wgbh/nova/ancient/pharaoh-chariot.html