Li He
Assistant Scientist
PROFILE LINKS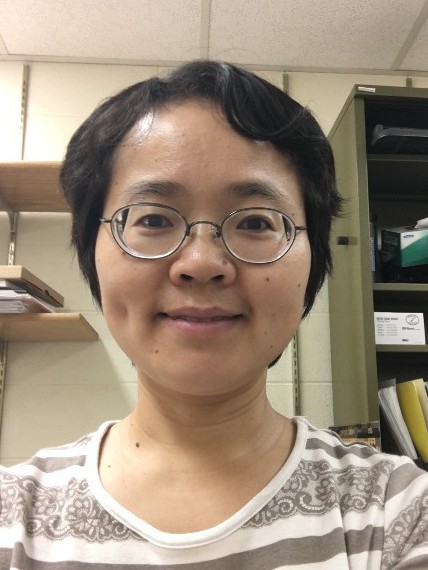 Room: 941
Engineering Research Building
1500 Engineering Drive
Madison, Wisco 53706
Ph: (608) 890-3578
li.he@wisc.edu

Profile Summary
EXPERTISE
Dr. Li He is a materials scientist specialized in transmission electron microscopy study of metals, glasses, and semiconductor materials. Her research focuses on ion irradiation and post-irradiation characterization of nuclear materials, nanostructures and dynamical change of structures under stimulation. She discovered that highly stable silicon carbide defect clusters are excited and diffuse under electron irradiation at room temperature. She is the first to use an electron correlation microscopy technique for characterizing how medium-range order structures in supercooled liquid relaxes. Her other work includes medium-range order structures in metallic glasses and molecular glasses, TEM sample temperature measurement using electron diffraction, and semiconductor nanostructures for electrical, optical and magnetic applications.
EDUCATION
UNIVERSITY OF VIRGINIA, SCHOOL OF ENGINEERING AND APPLIED SCIENCE, Charlottesville, VA
Ph. D. in Material Science and Engineering Dec. 2009
Dissertation: Correlations of structures with electronic and magnetic properties in semiconductor nanomaterials
UNIVERSITY OF ELECTRONIC SCIENCE AND TECHNOLOGY OF CHINA, Chengdu, China
M. S. in Microelectronics and Solid-State Electronics Jun. 2000
B. S. in Electronic Materials and Components Jul. 1997
Ion and neutron irradiation damages to materials
Materials microanalysis with high resolution quantitative electron microscopy
DEPT. OF ENGINEERING PHYSICS, DEPT. OF MATERIAL SCIENCE AND ENGINEERING, UNIVERSITY OF WISCONSIN-MADISON, Research Associate, 2011-2015, Assistant Scientist, 2015, 2016-present
Technical contact for Ion Beam Laboratory at UW-Madison for ion irradiations and surface analysis projects.
Ion irradiation and scanning transmission electron microscopy (STEM and TEM) study of advanced stainless steels for nuclear reactors.
High resolution aberration corrected scanning STEM and TEM study of atomic defect structures in ion irradiated silicon carbide.
In-situ time-resolved fluctuation electron microscopy study of metallic glasses.
Structural analysis of ultrastable molecular glasses and zirconium-based metallic glass thin films.
DEPT. OF MATERIAL SCIENCE AND ENGINEERING, RENSSELAER POLYTECHNIC INSTITUTE, Research Associate, 2010-2011
High spatial resolution temperature measurement with electron diffraction.
DEPT. OF MATERIAL SCIENCE AND ENGINEERING, UNIVERSITY OF VIRGINIA, Research Assistant
Applying focused ion beam (FIB) techniques to develop semiconductor nanowire core-shell structures and structural characterization with TEM. Measurement of electrical properties of individual nanowires via a FIB-based new vertical nanowire contact fabrication method.
Dilute magnetic semiconductor materials structure and compositional characterization by TEM.
Correlations of structures and electronic properties of III-V quantum dots (QD).
UNIVERSITY OF ELECTRONIC SCIENCE AND TECHNOLOGY OF CHINA, Research Assistant
Development of nickel oxide electrochemical ultra-capacitors.
SELECTED PRESENTATION AND PUBLICATIONS
"Measurement of Irradiation-induced Swelling in Stainless Steels with a New Transmission Electron Microscopy Method", 2017, He L, Xu H, Tan L, Voyles PM, Sridharan K, Microscopy and Microanalysis meeting.
"Ion Irradiation Defects in Austenitic Alloy 709 and Ferritic-Martensitic Steel Grade 92 for Nuclear Applications", 2017, He L, Mo R, Tyburska-Püschel B, Xu H, Chen T, Tan L, Sridharan K, MRS spring meeting, oral presentation.
"Evolution of small defect clusters in ion-irradiated 3C-SiC: Combined cluster dynamics modeling and experimental study", 2017, Liu C, He L, Zhai Y, Tyburska-Püschel B, Voyles PM, Sridharan K, Morgan D, Szlufarska I, Acta Materialia125 377-389.
"Applications and limitations of electron correlation microscopy to study relaxation dynamics in supercooled liquids", 2016, Zhang P, He L, Besser MF, Liu Z, Schroers J, Kramer MJ, Voyles PM, Ultramicroscopy , http://dx.doi.org/10.1016/j.ultramic.2016.09.001i
"Size distribution of black spot defects and their contribution to swelling in irradiated SiC", 2016, Tyburska-Püschel B, Zhai Y, He L, Liu C, Boulle A, Voyles PM, Szlufarska I, Sridharan K, Journal of Nuclear Materials476 132-139.
"Radiation-induced mobility of small defect clusters in covalent materials", 2016, Jiang H, He L, Morgan D, Voyles PM, Szlufarska I, PHYSICAL REVIEW B94 024107.
"Electron Correlation Microscopy: A New Technique for Studying Local Atom Dynamics Applied to a Supercooled Liquid", 2015, He L, Zhang P, Besser MF, Kramer MJ, Voyles PM, Microscopy and Microanalysis21 1026-1033.

Best paper award

in the Microscopy and Microanalysis Journal in 2015.
"Atomic Resolution Imaging of Black Spot Defects in Ion Irradiated Silicon Carbide", 2015, He L, Jiang H, Zhai Y, Liu C, Szlufarska I, Tyburska-Püschel B, Sridharan K, Voyles PM, Microscopy and Microanalysis meeting,

invited talk

, 21 S3 1337-1338.
"Fluctuation Electron Microscopy Study of Medium-Range Packing Order in Ultrastable Indomethacin Glass Thin Films", 2014, He L, Gujral A, Ediger MD, Voyles PM, MRS fall meeting, oral presentation. MRS Fall 2014 Proceedings.
"Effect of annealing on the compositional heterogeneity and structure in zirconium-based bulk metallic glass thin films", 2014, He L, Chu JP, Li C-L, Lee C-M, Chen Y-C, Liaw PK, Voyles PM, Thin Solid Films561 87.
"In situ Heating Transmission Electron Microscopy Study of Metallic-Glass Thin Films" 2013, He L, Chu JP, Chen Y-C, Li C-L, Liaw PK, Voyles PM, MRS fall conference, oral presentation.
"Quantification of electron-phonon scattering for determination of temperature variations at high spatial resolution in the transmission electron microscope", 2012, He L, Hull R, Nanotechnology23 205705.
"Focused ion beam fabrication of novel core shell nanowire structures" 2008 He L, Johansson J, Murayama M, and Hull R Nanotechnology19 445610