Lih-sheng Turng
Kuo K. and Cindy F. Wang Professor
PROFILE LINKS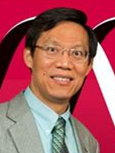 Room: 1051 ME
Mechanical Engineering Building
1513 University Avenue
Madison, WI 53706
Ph: (608) 262-0586
Fax: (608) 265-2316
turng@engr.wisc.edu

Profile Summary
Professor Turng is recognized for his research into the science and engineering of polymer injection molding. His research encompasses novel processes as well as new materials. He has been working in the area of microcellular injection molding, and has extended his research into nanocomposites, bio-based polymers, and tissue engineering scaffolds. Numerous grants and awards supporting his work have resulted, including the National Science Foundation (NSF) Major Research Instrumentation (MRI) Award, several NSF Academic Program Awards, an Industrial Consortium, sponsored research programs, several Wisconsin Innovation & Economic Development Research Program awards, Wisconsin Alumni Research Foundation (WARF) Accelerator Program awards, as well as grants from the Department of Defense (DOD), Department of Agriculture (USDA) Agriculture and Food Research Initiative (AFRI), and the Environmental Protection Agency (EPA). He is the Co-Director of the Polymer Engineering Center and Engineering Polymer Industrial Consortium at UW-Madison, and NSF Industry/University Corporative Research Center (I/UCRC) that supports faculty research and outreach.
Turng had been with C-MOLD, a company recognized for its advanced plastics CAE simulation packages, for 10 years before joining UW-Madison in the summer of 2000. At C-MOLD, Turng was the Principal Investigator for four Small Business Innovation Research (SBIR) Phase I, Phase II projects, and research grants from the National Science Foundation (NSF) and the New York State Science and Technology Foundation.
At present, Professor Turng has served as the Chair and the Board of Directors of the Injection Molding Division of the Society of Plastics Engineers (SPE). In addition, he is on the Editorial Board for the Journal of Advances in Polymer Technology, Journal of Biobased Materials and Bioenergy, Journal of Cellular Plastics, and International Journal of Polymer Materials. Professor Turng was the invited panelist and speaker at the 2003 Wisconsin Economic Summit IV and plenary or keynote speaker at a number of other international conferences. He has served as the Chair of the Canadian NSERC Network for Innovative Plastic Materials and Manufacturing Processes (NIPMMP). He has published over 300 technical papers and has authored or edited a dozen books, book chapters, conference proceedings, and special issue journals.
Professor Turng is a Fellow member of the Society of Plastics Engineers (SPE) and the American Society of Mechanical Engineers. He is the recipient of the 2011 "Engineer of the Year Award" from the Society of Plastics Engineers Injection Molding Division and an Honored Service Member of the SPE in 2014.
Professor Turng has recently been selected to join the Wisconsin Institute for Discovery (WID) at UW-Madison and lead an interdisciplinary team to develop innovative tissue engineering scaffolds that restore, maintain, or improve the function of diseased or damaged human tissues. He is also the University of Wisconsin–Madison Principal Investigator for the DOD Digital Manufacturing and Design Innovation Institute (DMDII) project, one of the President Obama's National Network for Manufacturing Innovation (NNMI) institutes.